Colour-Fool
Yumi Umiumare and ButohOUT! Ensemble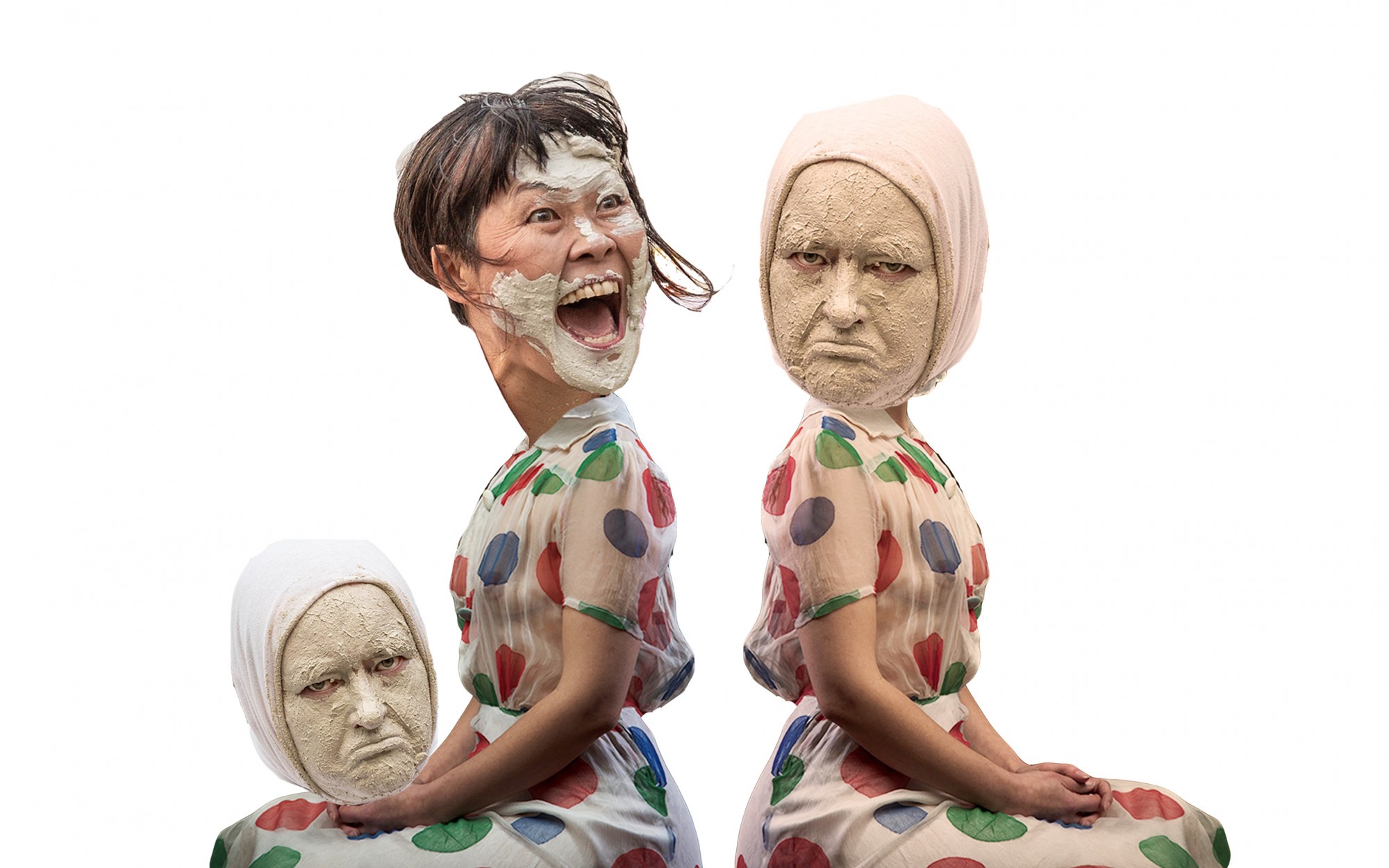 1/4
'New Ab/Normal — Colour-Fool' (2021), Yumi Umiumare and Pauline Sherlock. Collage elements by Jacqui Stockdale, graphic design by Monica Benova, photo by Mathew Lynn.
Colour-Fool is an experimental performance installation work which embraces our colourful acts of 'foolishness' to provoke and challenge our perception of 'what is normal?'
As part of ButohOUT! 2021 (New Ab/Normal), Colour-Fool explores the term 'new normal' which contains the paradoxical nuance that an abnormality can become 'normal'. Colour-Fool brings a smorgasbord of short performances, roving and digital installation works in and around Dancehouse, with a colourful, quirky and illusionary sense of humour.
Colour-Fool will be created by a heterogeneous bunch of established & emerging artists from diverse cultural backgrounds. Drawing on their personal narratives and making use of interdisciplinary practices of poetry, visual arts and body painting — reflecting on interpretations of 'home,' 'connection' and 'flesh' in a post-pandemic Melbourne. Yumi Umiumare, the international Butoh punkess, is directing and also joining in the fusion as a performer, along with new collaborators, Emma Bathgate (voice) and Ai Yamamoto (Sound). Let's celebrate our unique darkness and the contradictions within ourselves as we face these uncertain times!
The Sunday 28th March performance of Colour-Fool is accessible to wheelchair users.
Director & Choreographer: Yumi Umiumare
Producer: Takashi Takiguchi
Co-creators & Performers: Kiki Ando, Emma Bathgate, David Blom, Jessie Ngaio, Pauline Sherlock, Tomoko Yamasaki, Takashi Takiguchi, Yumi Umiumare.
Lighting Designer & Operator: Rachel Lee
Sound Designer: Ai Yamamoto
Sound Operator: Isao Sano
Graphic Design: Monika Benova
Video works: Justas Pipinis and Yumi Umiumare
Visual arts consultation: Jacqui Stockdale
Download Season One 2021 Program
ButohOUT! 2021: New Ab/Normal includes 2 performance presentations: Colour-Fool (壱) at Dancehouse, 25–28 March; and Odd Hours (弐), 20–23 May at Abbotsford Convent; along with 5 public workshops, a performance-making laboratory and forum at Abbotsford Convent.
---
Package: See Here we are too (25—27 March) for $35—50 >> BOOK BOTH
Read More
Yumi Umiumare was born in Hyogo, Japan and is an established Butoh Dancer, choreographer and creator of Butoh Cabaret works. She has been creating her distinctive style of works for 30 years and her works are renowned for provoking visceral emotions and cultural identities. Yumi's works have been seen in numerous festivals in dance, theatre and film productions throughout Australia, Japan, Europe, New Zealand, South East Asia and South America, and have received several Australian Green Room awards. Yumi has worked with many socially engaged theatre projects, with aboriginal and refugee communities, culturally diverse groups and inclusive dance and theatre companies. Yumi is a recipient of a fellowship from Australia Council (2015-16) and the winner of the Green Room Geoffrey Milne Memorial Award in 2017 in recognition of  her contribution to Contemporary and Experimental Performance. Yumi is an artistic director of ButohOUT! Festival, activating local and international Butoh communities in Melbourne and teaches nationally and internationally. www.yumi.com.au
Takashi Takiguchi is a performer and creative producer of Japanese heritage based in Naarm (Melbourne). Takashi has an interest in working with varied ensembles of performers and non-performers who have a diverse skill set and lived experience, come from diverse backgrounds, ages, body types and varying levels of training.  As a migrant, queer, non-trained performer and a late career starter in the art sector himself, he is concerned about understanding the methodology to develop two competing ideas — de-habitualising & arbitrary movement while establishing a authentic and distinctive performer's body language in performance and production. Major projects and artistic collaborators have produced and co-produced include ButohOUT! Festival, Australia's first Butoh festival (Melbourne 2017-2020) with Yumi Umiumare;  Melaka Art & Performance Festival (2016 –  2010) with Tony Yap; Pelem Festival (2016 &  2020) with the Indonesian-based dancer Agung Gunanwan. impermanenceproductions.com
Kiki Ando was born in Shizuoka Japan, Kiki is a fashion designer and potter. She moved to Australia in 2003 where she graduated at the Melbourne School of Fashion while directing shows for the Melbourne Fringe Festival  as well as several events for the Loreal Fashion Week. Kiki moved to Berlin in 2007 to explore fashion, music and movie costumes in collaboration with Berlin based electronic pop band, Private Posh Club. Since her return to Melbourne in 2009, she started to dance and continues to explore multi-disciplinary artistic outputs through fashion pottery-making and physical performance.
David Blom works as a mental health nurse and educator. In his spare time he chases the Butoh. Under the tutelage of Yumi Umiumare and Tony Yap, David has been subject to multiple performances including ButohOUT! 2019, Mapping Melbourne 2019, ButohOUT! 2020, Huru Hara/Asia TOPA 2020. It is through the iconoclasm of Butoh that David seeks a sense of what it means to connect to himself and others in this brief, nonsensical moment.
Jessie Ngaio studied art in her hometown in Aotearoa and her MFA at RMIT. As chronic pain inhibited her painting, she explored taking her practice into the performing arts, producing and starring in Golden Gibbo nominated musical comedy, Slutmonster and Friends. She co-created a surreal webseries, Trying My Best and co-directed a dark clown show Apex Predator. Recently she has trained in clown and bouffon with Giovanni Fusetti, Claire Bartholomew and Pedro Fabio and is discovering a fascination with Butoh, studying with Yumi Umiumare. She is an experienced editor, creator and performer in feminist porn. jngaio.com
Pauline Sherlock has been based in Melbourne since October of 2018 and partaking in rigorous training experiences, exploring clown, Butoh, improvised movement and theatre training as research for her PhD and as part of her pursuit of expertise. Pauline has performed for several years as a singer-songwriter and stand-up comedian. Most recently Pauline has performed as 'Daisy' the clown, as part of the ButohOut festival, as 'Zygote' and has created a one-woman-show called Trapped Inside A Fat Old Lady, staged at The Butterfly Club. Using personal issues and experiences to generate material, Pauline aims to entertain with catharsis.
Tomoko Yamasaki is a Japanese performance artist & aerial performer, and shiatsu therapist based in Melbourne.After arriving in Melbourne in 1993, she began training aerial circus with Circus Oz and Women's Circus to express her physical body as her first language.She graduated from John Bolton Theatre School in 1998. She has been performing in a variety of festivals, events and theatres exploring through her provocative and intuitive emotional cultural approach. Her major performances are; 'TU NA GU'(Melbourne Fringe 2016) @ the Meat Market, Nocturnal Tokyo @ Melbourne Museum 2018, Aerial silk performance in Classics 2015 @ Melba Spiegeltent and Ngapartji Ngapartji (by Big hART)2008 Perth International Festival. Butoh moves Tomoko's internal physical voice to meet her memories. She has been performing in Beyond Butoh (former BuohOUT!) since 2004.