A Book of Hours
Gerard Van Dyck, Sal Cooper, Kate Neal & Rubiks Collective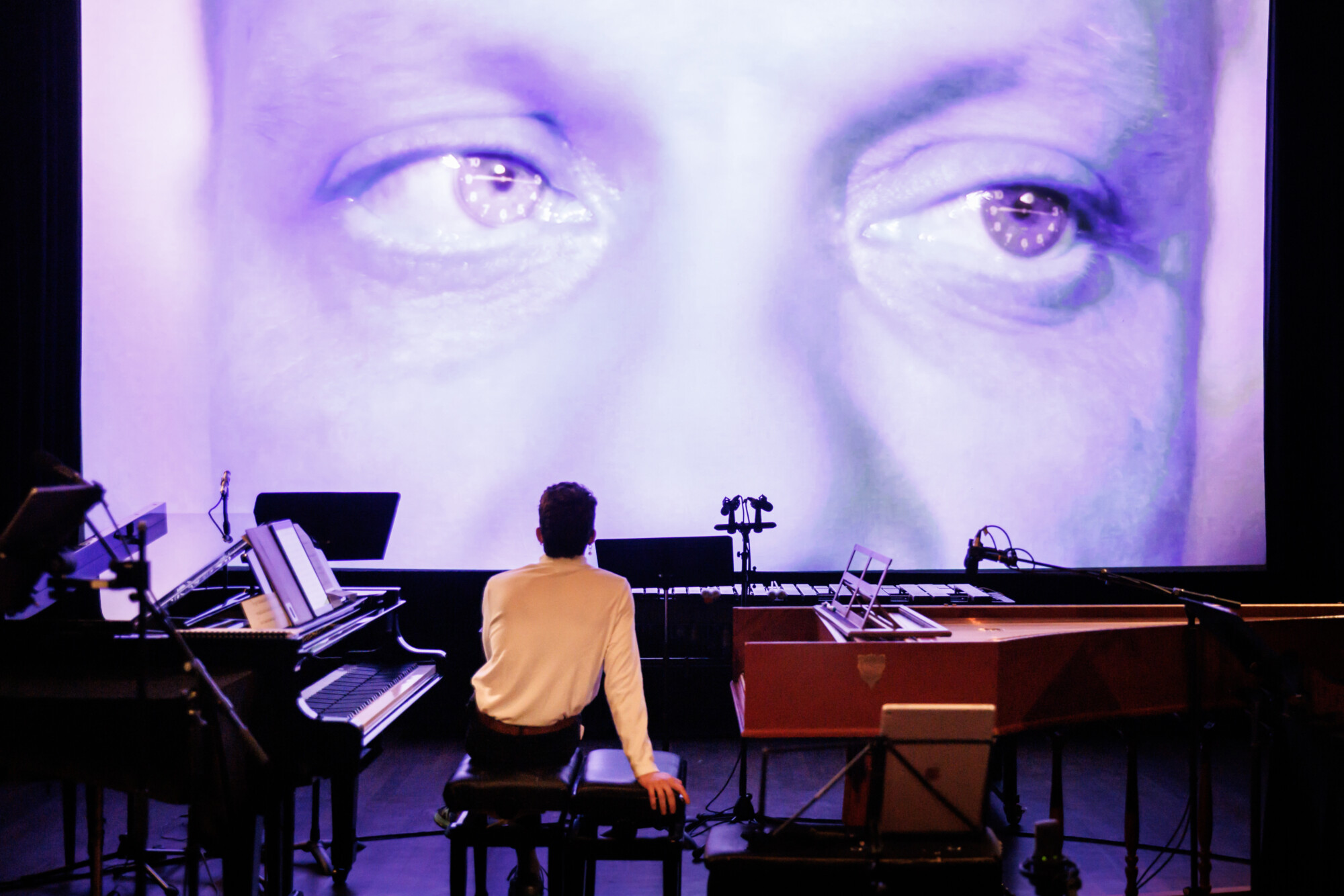 1/7
'A Book of Hours' (2023), Gerard Van Dyck. Image by Sal Cooper.
The bell tolled, the pages turned and time collapsed: days inverted and nights imploded.
The Book of Hours is your entropic guide to an unfolding lifestyle.
There are rhythms of movement, textures of sound and eyelids of pictures.
A Book of Hours is a revelatory screendance presentation. A world of projected movement, a digital stage choreographed by Gerard Van Dyck and accompanied by a live score from Rubiks Collective.
Tick tock, tick tock. Watch it all unwind…
"Call it dance or art music or just live performance. Whatever it is – A Book of Hours is the best kind of puzzle." — ★★★★ The Age (16/10/2023)
Hear more about A Book of Hours on the Music Show (16/10/2023)
---
Creative Directors: Gerard Van Dyck / Sal Cooper / Kate Neal / Rubiks Collective
Choreography / Movement: Gerard Van Dyck
Animation / Visual Media: Sal Cooper
Music / Sound: Kate Neal (with Couperin and Rameau)
Sound Engineer: Tilman Robinson
Ensemble: Rubiks Collective (Jacob Abela – keyboards | Tamara Kohler – flutes | Gemma Kneale – cello | Kaylie Melville – percussion)
Read More
Gerard Van Dyck is an artist based in Melbourne/Naarm. His dance/choreography career saw him create and perform in dozens of original works touring most of Australia's theatrical stages. He co-founded KAGE, a leading dance theatre company with Kate Denborough in 1997, which spanned 21 years. Gerard's solo work THE COLLAPSIBLE MAN (2001) toured extensively across Australia and won multiple awards. He has worked with BalletLab, Polyglot, Nat Cursio, Sandra Parker, Danielle Micich, Clare Dyson, Eleventh Hour Theatre, Wits' End, Legs on the Wall, Kate Neal, Sal Cooper, and desoxy Theatre. Gerard has taught dance, movement, partnering, and choreography at numerous dance institutions, studios, festivals and high schools across Australia. As a sculptor he designs and builds geometric tensile paper structures.
Sal Cooper is an interdisciplinary artist who has been practising for fifteen years with a focus on screen-based works. Her wide ranging cross-platform practice covers independent filmmaking, hand drawn and stop motion animation, installation and performative events.
The integration of music within the context of moving image is a central part of her practice as can be seen in her ongoing collaboration with composer Kate Neal under the title Flight Risk. This collaboration has given rise to a body of commissioned material including major theatrical/performance works, concert pieces and music videos as well as work for cinematic settings.
Sal was co-artistic director of While You Sleep (2018, 2022). Further works include The Commuter Variations (2019) a work for solo piano and animation that was commissioned by The Melbourne Recital Centre, and numerous short films and experimental videos that continue to be screened around the world.
Kate Neal is an artist with over 20 years' experience as a composer, arranger, teacher, artistic director and collaborator. In 2020/21 Neal premiered Sentiment Logistics with Sal Cooper, a TURA No Borders commission, as well as new works for Golden Gate Brass, Muses Trio and sound design for the RISING featured theatre work The Dispute. A new solo cello work Old Silences (with animation by Sal Cooper) also premiered in Brisbane and was to feature at the 2021 Art Music Awards. In 2018 Neal premiered, and in 2022 toured, 'While You Sleep', a 50min work for string quartet and visual media in collaboration with Sal Cooper. Neal currently (2023) teaches Interactive Composition at the MCM, Faculty of Fine Arts and Music.
Rubiks Collective is one of Melbourne's most dynamic contemporary art music ensembles, bringing together Australia's most exciting and versatile young performers. Since debuting in 2015, the ensemble has been hailed as "a formidable contribution to Australia's growing community of contemporary music makers" (Partial Durations) and commended for "incredibly personal, strangely spiritual and ultimately deeply touching" performances (Limelight Magazine). With a particular interest in storytelling and cross-art collaboration, Rubiks has quickly established a reputation for excellence, delighting audiences with their unique programming and dazzling virtuosity.

Book of Hours is supported by the Victorian Government through Creative Victoria, City of Yarra and the Besen Family Foundation. Book of Hours would also like to thank Dancehouse as the venue partner.