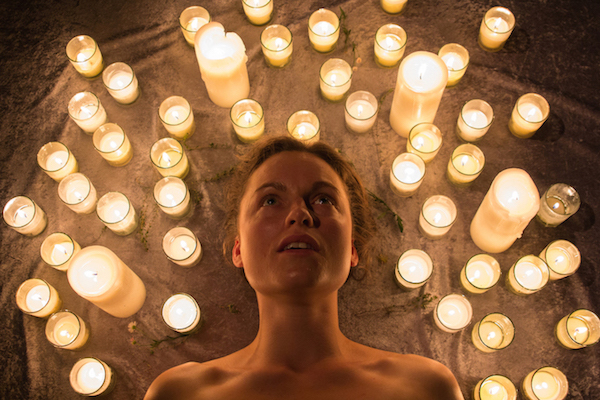 1/1
'The Voices of Joan of Arc' (2019), Janie Gibson. Photo by Daniel Han.
Now more than ever we need to draw inspiration from the galvanising wisdom of rebels; the people who are not afraid to speak truth to power and have the courage to take action. In this intimate solo performance, actor and theatre maker Janie Gibson delves into the past to invoke the spirit of Joan of Arc and unearth the damning voices of her oppressors in a spell to dissolve the patriarchy.
Performed solo by Janie Gibson and directed by Anu Almagro (Song of the Goat Theatre) the artists open the wounds on the world's oldest prejudice: misogyny, and trace it's threads from the Catholic Church in medieval Europe to its startling reverberations today, weaving together Joan's trial transcripts, plays, media sound bites and contemporary voices that echo Joan's story.
Performer and Creator: Janie Gibson
Director and Creator: Anu Almagro
Sound Design: Liesl Pieterse
Producer & Fight Choreography: Gabriel Almagro
Additional Composition: Xani Kolac and Toecutter
Read More
Janie Gibson is a theatre-maker and teaching artist based in Melbourne, Australia. She uses the ritual of theatre as a forum for human connection; a site to hold radical ideas, witness multivalent perspectives and offer counter-narratives to the confinements of the dominant culture. She tells stories in the quest to redefine personal, cultural and political identity through the radical act of being seen and heard. The stories we tell and are told forge our sense of self. They influence how we act and are acted upon. The narratives we live in can limit us, or expand our sense of possibility. Stories are road maps. Stories can be medicine. She practices in the lineage of Eastern European ensemble theatre and devised contemporary performance. Through theatre she reimagines stories from history, myths, imagination, memory and personal experience and uses the ritual of drama, language, poetry, character, live music, singing and heightened physicality to play in the dynamic relationship of actor, ensemble and audience. She has developed and presented work in Australia with PACT, Tantrum Youth Arts, NEXT WAVE, Underbelly Arts, Urban Theatre Projects and Performance Space; and internationally with Odra Ensemble (Song of the Goat Theatre, Poland), Shakespeare & Company (U.S.A) and ULTIMAVEZ (Belgium). Most recently she directed HOME; a devised ensemble piece, that investigated the complexity of belonging, produced by Tantrum Youth Arts. HOME was nominated for 5 CONDA awards including Best Direction and Best New Work.
Anu Almagro (Salonen) is a Finnish actress and acting teacher working internationally around the globe. Her interest in performance work, deeply rooted in cultural traditions and born out of authentic and energetic connection between people, drove her to Poland for the first time in 2004. In 2007 she became a member of Teatr Piesn Kozla/ Song of the Goat Theatre, an international award winning theatre company based in Wroclaw, Poland and a teacher of the company's unique Coordination technique. She created her own theatre company, Odra Ensemble, which trained and performed in Wroclaw, Poland between 2011 and 2013. Finland based company Anu Almagro Actor Training Tmi follows invitations to share profound and holistic acting technique workshops with professional theatre makers as well with students throughout the world.
Liesl Pieterse is a sound designer, composer, musician and filmmaker. In Post Production Sound she has been credited on over 50 Australian and International feature films including Red Dog, The Dressmaker, Peter Rabbit, MaryMagdalene and Animal Kingdom. In this capacity she has worked with internationally renowned directors and actors, won three ASSG (Australian Screen Sound Guild) awards and an ASSG nomination as Sound Designer for Best Sound in a Short Film (2018), Let's See How Fast This Baby Will Go. Liesl composes music for radio, short films and web series. Most recently she wrote and produced the musical theme for ABC Radio National'sLife Matters. She is trained in classical piano and has studied Electronic Music Production at SAE in Berlin and at MESS Studios Melbourne. Liesl also creates and performs electronic music through her solo project Zellen andreleased her debut EP in October 2018. When Liesl is not working in sound she likes to collaborate with other artists, musicians and filmmakers to create interesting and unique projects. She has written and directed music videos and six short films which have screened at various festivals internationally.